Socotra Island, Yemen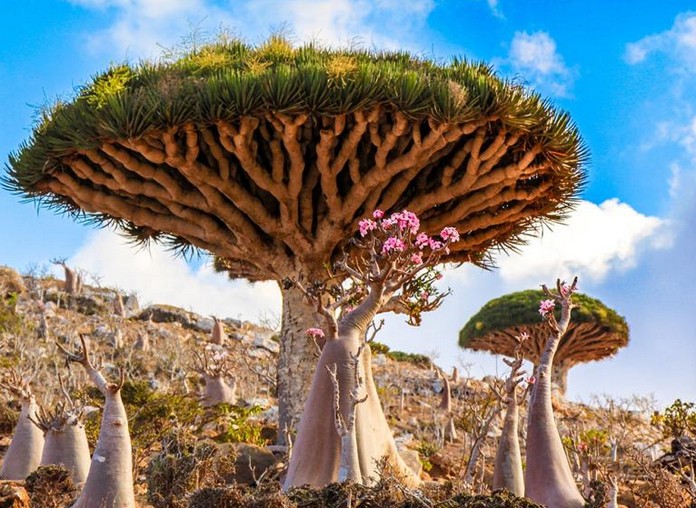 Just off the coast of Yemen, Socotra Island is the largest in a small archipelago that has been detached from the mainland for millions of years.
This separation has made the island home to a surprising array of endemic biodiversity.
Kawah Ijen Volcano, Indonesia
Within the plumes of smoke surrounding the top of this active volcano are two features that make East Java's Kawah Ijen unbelievable:
the blue flames spitting into the sulfurous air, and the deep turquoise lake that looks perfect for a swim — if it wasn't filled with deadly acid.
Chocolate Hills, Philippines
In the middle of the island of Bohol in the Philippines sit 1,300 strangely regular hills of practically identical shape.
The local legends say the hills came from a fight between two giants who threw rocks at each other for days until they were exhausted.
Lake Khiluk, British Columbia
Known as "Spotted Lake," Lake Khiluk in British Columbia dries up over the summer, leaving heavily mineralized pools, each with different mineral content.
The variety of minerals are what gives the "spots" their unusual colors.
Vinicunca Mountain, Peru
Also known as "Rainbow Mountain," is a peak located deep in the Peruvian Andes. Striped in vibrant blues, reds, and yellows, the mountain culminates at 16,000 feet.
There is a road that winds up the peak, making the summit accessible in only a few hours, but the altitude can seriously impact anyone who isn't prepared for it.
Mendenhall Ice Caves, Alaska
The Mendenhall Glacier (originally called Sitaantaagu by the Tlingit people) is only 12 miles from downtown Juneau, Alaska, but is accessible primarily by kayak.
The caves inside can only be reached by ice climbing over the glacier itself…
Great Rann of Kutch, India
Almost 3,000 square miles in size, this vast salt flat in the middle of India's Gujarat region is pure white — except for the occasional touch of pink from the flocks of flamingos that nest in the rare pockets of thorny scrub…