Schloss Schauenstein, Furstenau, Switzerland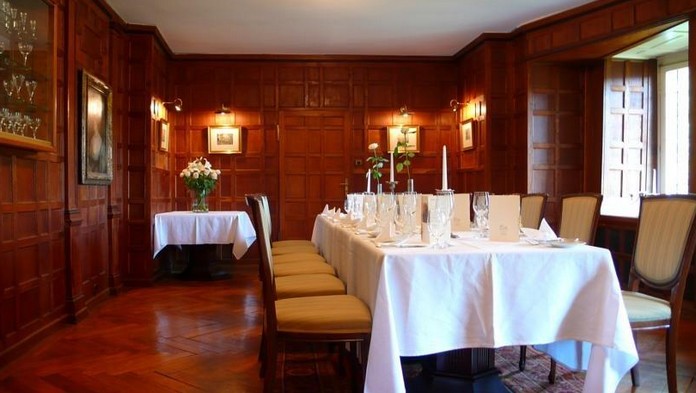 Named as one of the 50 Best Restaurants in the World by Restaurant Magazine, Schloss Schauenstein charges a premium to dine inside this beautiful castle.
Head chef Andreas Caminada is at the helm of this three-Michelin-star restaurant, creating aesthetically pleasing dishes that utilize local cuisine…
Michel Bras Toya, Toya, Japan
For sweeping views of volcanic Lake Toya, make a reservation for Michel Bras Toya, a unique French-inspired restaurant located on the coast of Hokkaido in Japan.
Alain Ducasse at The Dorchester, London
Alain Ducasse's London concept is situated inside The Dorchester in London.
The chef's tasting menu, created by executive chef Jocelyn Herland, consists of seven seasonal courses that include dishes like crayfish veloute and fillet of halibut.
Hotel de Ville, Crissier, Switzerland
This 3-Michelin-star restaurant is run by husband-and-wife Benoit and Brigitte and has a rich history of showcasing legendary chefs for more than 40 years.
Ithaca, Maldives
Ithaa restaurant in the Maldives is located 5 meters (about 16.5 feet) below the surface and has 180-degree views of the vibrant coral gardens.
Arakawa, Tokyo
For the high-end diner who loves a truly exquisite place, Arakawa is not to be missed.
The restaurant highlights purebred Tajima cattle…
Maison Pic, Valence, France
Maison Pic is a legendary French restaurant in France, that boasts 3 Michelin stars.
Today, chef Anne-Sophie Pic is crafting the food and menus just as her father…
Masa, New York City
Located in the Time Warner Center in the heart of New York City, Masa is one of the most luxe dining experiences you can have in the Big Apple.
Restaurant Le Meurice, Paris
Named chef Alain Ducasse makes our top 10 list twice this year. At Le Meurice in Paris, he knows how to put together a costly menu.
Kitcho, Kyoto, Japan
One of the priciest dining experiences in Japan is at Kitcho, a beautifully designed restaurant run by award-winning chef Kunio Tokuoka.
The chef believes every dish that is served to his customers is a work of art and represents the sights and smells of Japanese culture.