Moraine Lake, Canada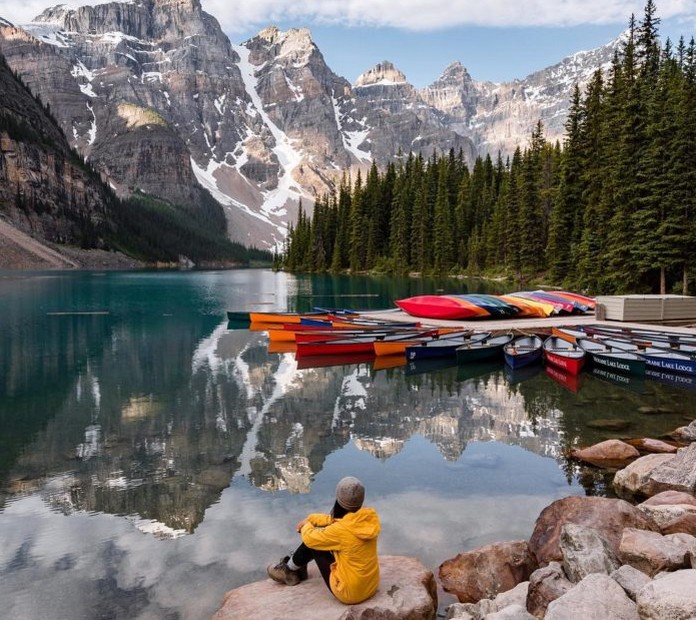 The biggest draw at Moraine Lake is the sheer variety of hiking and walking trails, the most popular of them all being The Rockpile Trail.
The 300 meters long patch has tourists thronging on it. Witness the most photographed location of Canada from Rockpile's peak.
Melissani Cave, Kefalonia, Greece
According to Greek legend, Melissani is known to be the Nymph's cave. It has a striking looking lake in addition to lush trees and thriving forests.
Nestled smack in the middle of the Eymorfia and Agia Dynati mountains, the place plays host to plenty of tourists.
Pink Lake, Australia
The name can be slightly misleading because it's not pink water.
However, there's no denying that the water changes color frequently due to a high concentration of green alga and brine prawn.
Lake Bled, Slovenia
Encircling the picturesque Bled Island, Lake Bled features several structures, the most prominent of which is a church devoted to the Assumption of Mary.
Built-in the late 17th century, its Gothic frescos and Baroque detailing is worth witnessing. Makes for a storybook perfect scene!
Lake Powell, Utah
Lake Powell is juxtaposed between Utah and Arizona, much like Rainbow Bridge, a major part of which runs along with Utah.
With an annual tourist turnover of approximately two million folks, this is the second-largest artificial reservoir (optimal water capacity)in the nation.
Lake Como, Italy
Locally known as Lago di Como, literally translating into Lake of Como, this lake is often mentioned in magazines and travel literature as Como Lake. The name is actually derived from Como city to the Romans as Comum.
Lake Atitlan, Guatemala
One of Guatemala's most eminent attractions, the iconic Lake Atitlan is known for its pristine surroundings and post-card perfect beauty.
The lake has been referenced in several books as a natural masterpiece.
Crater Lake, Oregon
located in central Oregon, is the highlight of Crater Lake National Park. Popular for its deep sapphire hues and clear water, this one's a photogenic beauty!
The lake fills a 655-meter deep caldera dating back 7,700 years. Total water replacement happens every 250 years ago…
Lake Lucerne, Switzerland
The quirkily shaped lake features several curve bends along with four branches.
It commences from the Reuss Valley above Urnersee and snakes to Brunnen at the north before doing a sharp west turn smack into the dramatic Gersauer Becken.